OPUS 3, Hospital Bed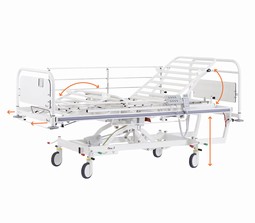 4-sectioned bed base with ergonomic retrograde regulation of back. 4 motors(height, back-,thigh and leg adjustment) Build in extension of Bed Base. Central Brake with Pedal on both sides. Stainless Steel Pipe Gabels in compact laminate. Hight adjustment from 38 to 85 cm. SWL: 250 kgs. User Weight 200 kgs.
Classification
18 12 10 - 30
Adjustable beds, 4-sectioned mattress support platform, electrically operated
The product series contains 1 product.
Product 1 of 1 - OPUS 3, Hospital Bed
Registration date
14-05-2003
Specifications
| | | |
| --- | --- | --- |
| Outside measure length | 2240 | mm |
| Outside measure width | 995 | mm |
| Mattress size, length | 2000 | mm |
| Mattress size, width | 850 | mm |
| Load, max. | 250 | kg |
| User weight max. | 200 | kg |
| Weight of heaviest main part | 125 | kg |
| Ingress protection class for water | 66 | IP class |
| Built in bed extension | Yes | |
| Intended for use in hospitals | Yes | |
| Intended for use in home care | No | |
| Mattress support platform, height above floor, min. | 380 | mm |
| Mattress support platform, height above floor, max. | 850 | mm |
| Under bed clearance | 170 | mm |
| Central braking system | Yes | |
| Wheel diameter | 150 | mm |
| Back rest section, electrical adjustment | Yes | |
| Leg section, electrical adjustment | Yes | |
| Upper leg section, electrical adjustment | Yes | |
| Height adjustment, electrical | Yes | |
| Separate adjustment of back rest | Yes | |
| Combined adjustment of mattress support platform | Yes | |
| Removable bed-rails | No | |
| Removable self-lifting rail | Yes | |
| Removable foot board | Yes | |
| Removable head board | Yes | |
| Heigh cot sides | No | |
| Adjustable head rest section | No | |