Support arm, height adjustable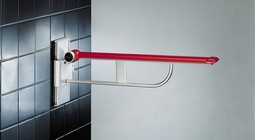 Height adjustable support arm. 250 mm height adjustable. Available with and without a built-in spring for counterbalance and in two lengths. The oval shape (33 x 51 mm) gives an easy and comfortable surface to lean and push against. Available in more colours.
Classification
18 18 11 - 01
Toilet armrests, wall mounted
The product series contains 4 products.
The product series also includes a discontinued product. Change
Settings
to display this product.
The product below meets the specified details.
Click
show all products
to see all products belonging to the product series.
Support arm, counterbalanced, 850 mm. Height adjustable
Registration date
25-02-2002
Specifications
| | | |
| --- | --- | --- |
| Load, max. | 135 | kg |
| Height, min. | 66.8 | cm |
| Height, max. | 91.8 | cm |
| Length of armrest | 86.6 | cm |
| Hinged | Yes | |
| Pivoting | No | |