Support arm, height adjustable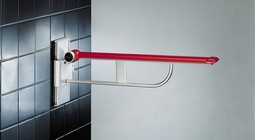 Height adjustable support arm. 250 mm height adjustable. Available with and without a built-in spring for counterbalance and in two lengths. The oval shape (33 x 51 mm) gives an easy and comfortable surface to lean and push against. Available in more colours.
Classification
18 18 11 - 01
Toilet armrests, wall mounted
The product series contains 4 products.
The product below meets the specified details.
Click
show all products
to see all products belonging to the product series.
Support arm, counterbalanced, 850 mm. Height adjustable
Registration date
25-02-2002
Specifications
| | | |
| --- | --- | --- |
| Load, max. | 135 | kg |
| Height, min. | 668 | mm |
| Height, max. | 918 | mm |
| Length of armrest | 866 | mm |
| Hinged | Yes | |
| Pivoting | No | |