Evolight Pro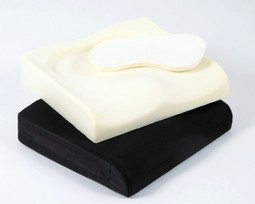 Seat cushion with predetermined contour. Optimum positioning is assured by means of leg support and a raised abduction area. A foam insert may be used for positioning in the area of the ischial tuberosity. Cover made of breathable spacer fabric assures a favourable seating climate. Includes a resealable waterproof bag for use under wet conditions.
Classification
18 10 06 - 01
Foam cushions, synthetic (PUR)
The product series contains 33 products.
The product series also includes 5 discontinued products. Change
Settings
to display these products.
Specifications summarized
Specifications for the 30 products in the product series. Click a HMI-no. to see all details for a single product.
Product 1 - 10
Specification/HMI-no.
65082
68823
68825
68826
68827
68828
68829
68830
68831
68832
Width (mm)
280
380
380
380
400
400
400
400
400
420
The cushion as a whole is machine washable
No
No
No
No
No
No
No
No
No
No
Depth (mm)
380
400
440
460
380
400
420
440
460
400
Height (mm)
80
80
80
80
80
80
80
80
80
80
Weight (g)
500
500
500
500
500
500
500
500
500
500
User weight max. (kg)
100
100
100
100
125
100
100
100
100
100
HR PUR foam
No
No
No
No
No
No
No
No
No
No
CM HR PUR foam
Yes
Yes
Yes
Yes
Yes
Yes
Yes
Yes
Yes
Yes
Viscoelastic PUR foam
No
No
No
No
No
No
No
No
No
No
Anatomically designed
Yes
Yes
Yes
Yes
Yes
Yes
Yes
Yes
Yes
Yes
Cover
Yes
Yes
Yes
Yes
Yes
Yes
Yes
Yes
Yes
Yes
Incontinence cover
No
No
No
No
No
No
No
No
No
No
Fire-retardant cover
Yes
Yes
Yes
Yes
Yes
Yes
Yes
Yes
Yes
Yes
Breathable cover
Yes
Yes
Yes
Yes
Yes
Yes
Yes
Yes
Yes
Yes
Extensible cover
Yes
Yes
Yes
Yes
Yes
Yes
Yes
Yes
Yes
Yes
Product 11 - 20
Specification/HMI-no.
68833
68834
68835
68836
68837
68838
68839
68840
68841
68842
Width (mm)
420
420
420
440
440
440
440
440
440
460
The cushion as a whole is machine washable
No
No
No
No
No
No
No
No
No
No
Depth (mm)
420
440
460
400
420
440
460
480
500
380
Height (mm)
80
80
80
80
80
80
80
80
80
80
Weight (g)
500
500
500
500
500
500
500
500
500
500
User weight max. (kg)
100
100
100
100
100
100
100
100
100
100
HR PUR foam
No
No
No
No
No
No
No
No
No
No
CM HR PUR foam
Yes
Yes
Yes
Yes
Yes
Yes
Yes
Yes
Yes
Yes
Viscoelastic PUR foam
No
No
No
No
No
No
No
No
No
No
Anatomically designed
Yes
Yes
Yes
Yes
Yes
Yes
Yes
Yes
Yes
Yes
Cover
Yes
Yes
Yes
Yes
Yes
Yes
Yes
Yes
Yes
Yes
Incontinence cover
No
No
No
No
No
No
No
No
No
No
Fire-retardant cover
Yes
Yes
Yes
Yes
Yes
Yes
Yes
Yes
Yes
Yes
Breathable cover
Yes
Yes
Yes
Yes
Yes
Yes
Yes
Yes
Yes
Yes
Extensible cover
Yes
Yes
Yes
Yes
Yes
Yes
Yes
Yes
Yes
Yes
Product 21 - 30
Specification/HMI-no.
68843
68844
68845
68846
68847
68848
68852
68853
68855
68856
Width (mm)
460
460
460
460
460
460
480
480
500
500
The cushion as a whole is machine washable
No
No
No
No
No
No
No
No
No
No
Depth (mm)
400
420
440
460
480
500
460
480
460
480
Height (mm)
80
80
80
80
80
80
80
80
80
80
Weight (g)
500
500
500
500
500
500
500
500
500
500
User weight max. (kg)
100
100
100
100
100
100
100
100
100
100
HR PUR foam
No
No
No
No
No
No
No
No
No
No
CM HR PUR foam
Yes
Yes
Yes
Yes
Yes
Yes
Yes
Yes
Yes
Yes
Viscoelastic PUR foam
No
No
No
No
No
No
No
No
No
No
Anatomically designed
Yes
Yes
Yes
Yes
Yes
Yes
Yes
Yes
Yes
Yes
Cover
Yes
Yes
Yes
Yes
Yes
Yes
Yes
Yes
Yes
Yes
Incontinence cover
No
No
No
No
No
No
No
No
No
No
Fire-retardant cover
Yes
Yes
Yes
Yes
Yes
Yes
Yes
Yes
Yes
Yes
Breathable cover
Yes
Yes
Yes
Yes
Yes
Yes
Yes
Yes
Yes
Yes
Extensible cover
Yes
Yes
Yes
Yes
Yes
Yes
Yes
Yes
Yes
Yes
Page: 1
2