CareWave X-Small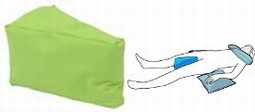 Lejringsserie specielt udviklet til børn, men kan også anvendes af voksne. Puderne indeholder mikro polystyren kugler og betrækket er 4-way stretch inkontinenssikret. Puderne i serien kan kombineres alt efter hvilken udfordring man står med, kun fantasien sætter grænser.
Classification
18 12 15 - 09
Multi purpose body positioners
The product series contains 1 product.
Product 1 of 1 - Abduktionskile X-small
Abduktionskile til abducering af ben ved kontraktur eller spastisitet. Kan også anvendes til elevering af hånd og håndled.
Registration date
17-11-2011
Specifications
| | | |
| --- | --- | --- |
| Width | 150 | mm |
| Height | 120 | mm |
| Length | 230 | mm |