ThevoChair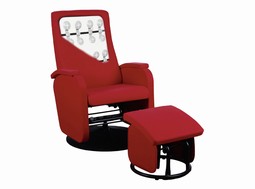 ThevoChair - The Dementia Chair. Smooth rocking motions move the foot, knee and hip joints in a gentle way. Scientific studies prove: rocking motions reduce symptoms of dementia. Back with MiS Micro-Stimulation that improves body perception of the person with dementia. This intensifies the positive aspect of the rocking motion.
Classification
18 09 15 - 01
Lounge chairs and easy chairs
The product series contains 1 product.
Product 1 of 1 - ThevoChair
The upholstery fabric is water-repellent and easy to wipe clean. Additional protective, incontinence cover. Comes with foot stool that moves with you automatically.
Registration date
26-01-2012