Victor Stratus 12M 0/1 switch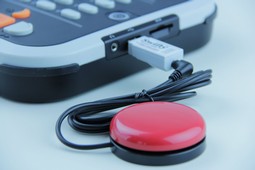 0/1 switch for Victor Stratus 12M. Picture illustrate switch with cable.
Classification
24 09 18 - 07
Single switches (switches with only one function)
The product series contains 2 products.
Specifications summarized
Specifications for the 2 products in the product series. Click a HMI-no. to see all details for a single product.
Product 1 - 2
Specification/HMI-no.
72270
72271
Activated by sound
No
No
Activated by pressure
Yes
Yes
Activated by touch
No
No
Activated by other
-
-
Movement (mm)
-
-
Activating force (g)
-
-
Interface / plug type
USB
USB, trådløs