Top-lite LED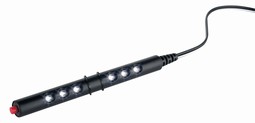 This product series and all belonging products have been discontinued since 02-02-2013
LED illumination has become a favorite option for patients who need extra light built into a hand-held or stand magnifier. Now, LED illumination is available as an attachable light source for those magnifiers that dont have built-in illumination. Using one of the enclosed clips, the LED Bar Light can easily be attached to many types of magnifiers.
Classification
18 06 06 - 01
Work lamps
The product series includes 1 discontinued product.
Change
Settings
to display this product.