VENDLET V4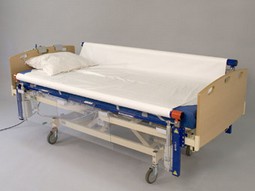 The fully automatic electrical turnsheet controlled by the handcontrol and the control unit. An older model, that is not sold in Denmark any more.
VENDLET V4 has a max. user weight of 200 kg.
VENDLET V4 plus has a max. user weight of 400 kg.
Classification
12 31 03 - 23
Powered turning products
Video

Play video
The product series contains 2 products.
Product 1 of 2 - VENDLET V4
The VENDLET V4 is used to reposition the patient to lateral, prone or supine position, to move the patient from one side of the bed to the other and to reposition them further up in bed. The VENDLET V4 may also be used in connection with mobilisation in and out of bed and when transferring patients from one bed to another.
Registration date
11-11-1999
Test information
EN 12182:1999: Technical aids for disabled persons - General requirements and test methods.
Test lab: Hjælpemiddelinstituttet. Test date: 20-09-2006

Specifications
| | | |
| --- | --- | --- |
| Length | 195 | cm |
| Width | 140 | cm |
| User weight max. | 200 | kg |
Product 2 of 2 - VENDLET V4 plus
The VENDLET V4 plus is used in the same way as the VENDLET V4. The only different is that VENDLET V4 plus is made for the bariatric patient since the user weight can be up to 400 kg.
Registration date
21-11-2007
Specifications
| | | |
| --- | --- | --- |
| Length | 195 | cm |
| Width | 140 | cm |
| User weight max. | 400 | kg |